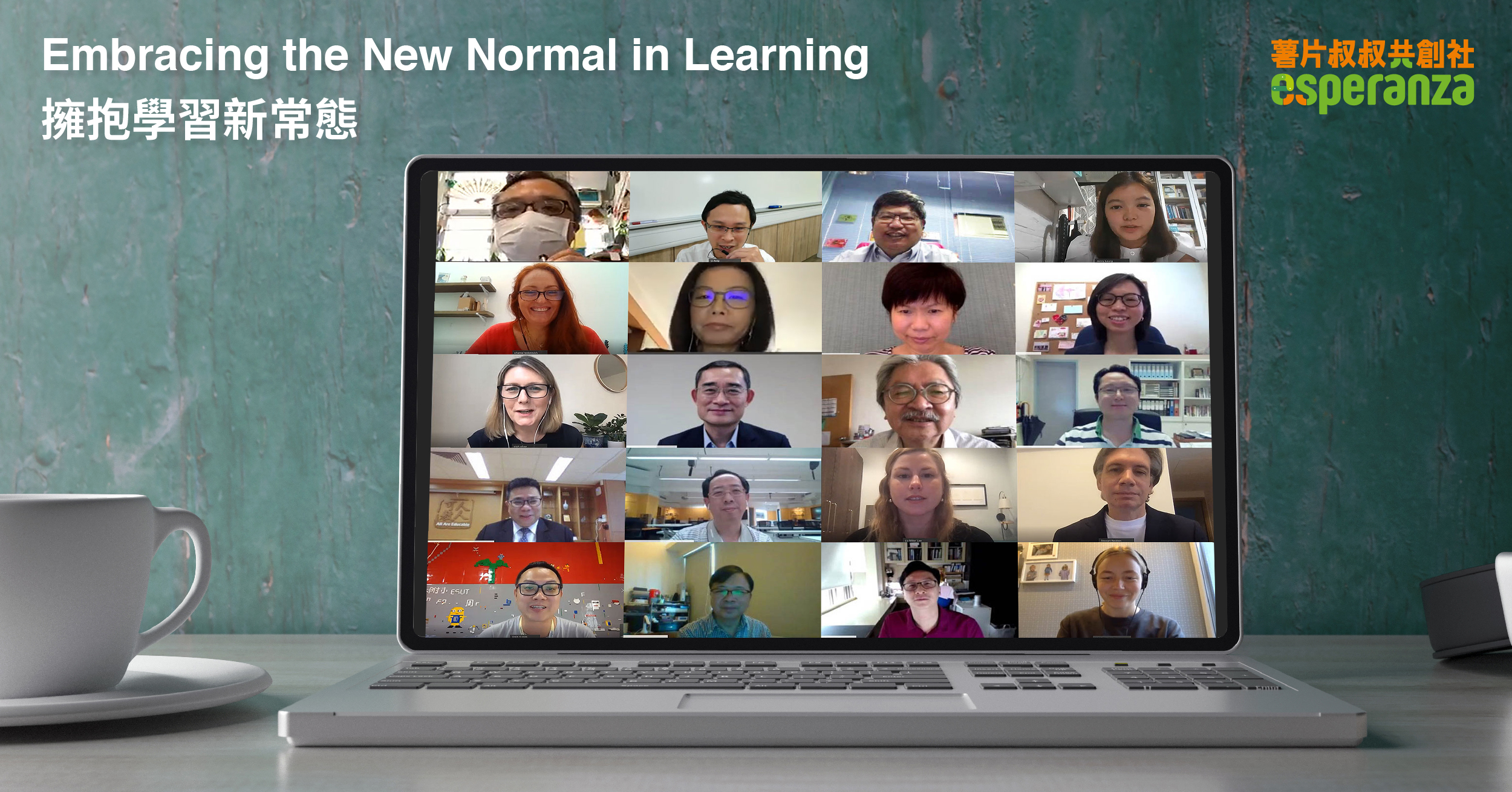 A recap on the 21C Learning Webinar: 
Embracing the New Normal in Learning
Equip teachers for the new challenges
in education and school resumption 
[22 May 2020, Hong Kong] 
The prolonged class suspension has brought unprecedented challenges to schools and urged educators to realise the importance of online teaching as well as blended learning. Hong Kong Education City (HKEdCity), Esperanza and the English Schools Foundation (ESF) have co-organised the '21C Learning Webinar: Embracing the New Normal in Learning', which saw local and international educators sharing their experiences in leveraging education technology to equip the future-ready generations, and to make learning and teaching more effective, fun and meaningful.
Mr Victor Cheng Pat-leung, Executive Director of HKEdCity and Mr John Tsang, Founder of Esperanza, delivered opening remarks in the webinar, while Ms Liz Miller Lee, Director of Online Learning of the International Society for Technology in Education (ISTE) was invited for a keynote speech.
Mr Victor Cheng pointed out, 'Interaction among teachers and support from various sectors are vital to driving the long-term development of innovative education. HKEdCity constantly strives to engage with different stakeholders and build a professional teachers community. He also disclosed that for the upcoming Learning & Teaching Expo 2020, HKEdCity will invite local and international speakers to share insights into the effectiveness and challenges of online teaching during class suspension to foster sharing of experiences among educators.
Mr John Tsang said, 'To fully harness the potential of blended learning, we need to have a fundamental rethink of the philosophy, goals and objectives of education, the learning curricula as well as the pedagogy. All these efforts have to be aligned with the ultimate goal of developing 21st century skills of students. We look forward to learning from the experience of our local and international educators. Successful implementation of blended learning requires effective collaborations among the interconnected group of players outside the classroom, from policy-makers, educators, businesses, technology solution providers, funders to parents.'
In the keynote session, Ms Liz Miller Lee highlighted four foundational areas: ensuring equity and inclusion; creating community between students and teachers and amongst the students themselves, designing online learning experiences to increase student agency and providing feedback and assessments.
The pandemic has highlighted the significance of blended learning. Schools need to reposition their learning models, objectives and effectiveness, so as to prepare for the new normal in education when the school resumes. In the primary schools sharing section, Mr Andy Li, Vice Principal of PLK Dr. Jimmy Wong Chi-Ho (TSV) Primary School, shared his school's plan to cope with the new normal. As the school resumes, morning lessons will focus on inter-personal communication alongside with self-directed learning activities. In the afternoon, students will stay home for self-learning with supplementary tutorials. With this approach, teachers can take better care of students with diversity and nurture their multiple intelligences.
Mr Chen Yi-hsin, PSMCD of Baptist Rainbow Primary School, talked about the shifting role of teachers. Teachers are no longer 'indoctrinators' but more of 'co-creators of knowledge'. Nowadays, students can learn anytime, anywhere. Therefore, apart from the shifting role of teachers, teaching format and content also need to evolve over time. Ms Cheng Lai-kuen, Vice Principal of F.D.B.W.A. Chow Chin Yau School, believed that the popular multimedia tools can arouse students' learning interests. Teachers can take reference from the popular online videos to create student-centred learning resources. Facing an era filled with uncertainty and changes, teachers need to place emphasis on nurturing the well-being, moral values, attitude and virtues of students. During the pandemic, her school also put forward life education to help students tackle adversity.
In the secondary schools sharing section, Dr Esther Ho Yuk-fan,  Principal of Carmel Alison Lam Foundation Secondary School, shared students need to reshape learning goals while teachers should change the way of teaching and combine traditional classrooms with online teaching, such as online tutorials, allowing for more flexible teaching and learning. When the school resumes, she plans to conduct a large-scale survey to further understand student needs. Ms Jenny Leung Ching-luen, Academic Coordinator and Assistant English Panel Head, Hong Kong Baptist University Affiliated School Wong Kam Fai Secondary and Primary School, underscored that class suspension had opened up an opportunity to push blended learning forward, and offered the opportune time to enhance online learning elements and redesign the curriculum. Mr Chan Lap-lai, Curriculum Planning Team Panel Head, Caritas Fanling Chan Chun Ha Secondary School, pointed out the essential role of information and technology in further development of blended learning.
The webinar also invited educators from international schools to share insights into the new normal in education. Monika Katkutė, Founder of Teachers Lead Tech, underscored the need for teachers to learn continuously and build the muscle of creating and adapting. And educators should acquire 21st century skills if they expect the same from students. Trish Oliver, ESF Learning and Teaching Adviser, shared the three aspects of effective blended learning: It has to be a social and collaborative experience with teachers, students and family members; a balance between synchronous and asynchronous learning, curriculum and interests; online and unplugged; and an engaging experience with students as active learners having autonomy and purpose. Stewart Redden, ESF Learning and Teaching Advisor (Secondary), shared learning with technology should involve students actively. Empathising with them is important, and he believed that teachers should be more than facilitators but a source of inspiration. 
Webinar slides and videos: www.hkedcity.net/goelearning/resource/5eccc1ff0da87ec81c52984b