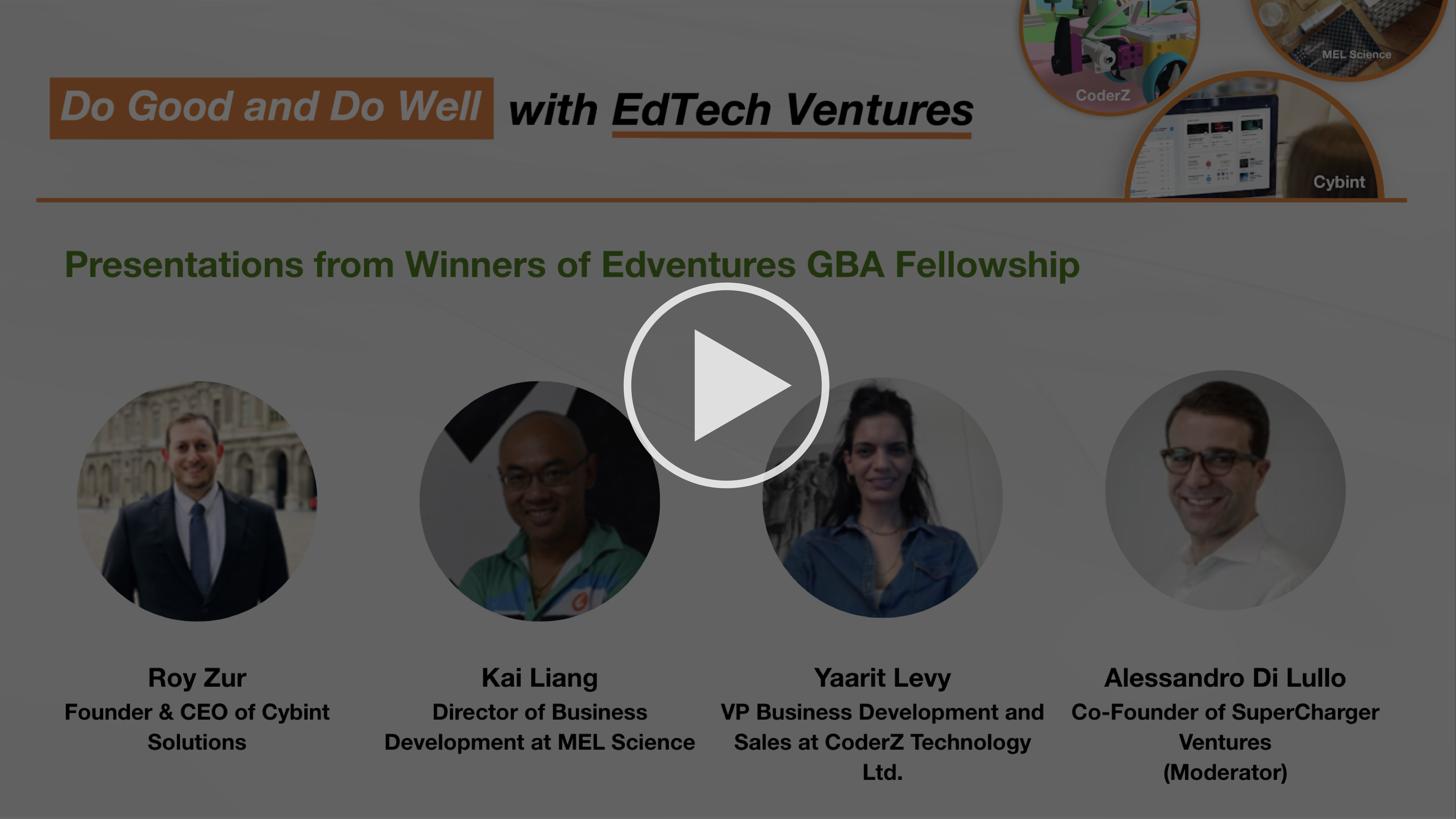 Alessandro Di Lullo, Co-Founder, SuperCharger Ventures moderated the presentation from the three winners of the Edventures GBA Fellowship in Nov 2020:
Yaarit Levy, VP Business Development and Sales at CoderZ Technology Ltd.

Kai Liang, Director of Business Development at MEL Science

Roy Zur, Founder & CEO of Cybint Solutions
Cybint Solutions (Israel) seeks to reskill and upskill the global workforce in cyber security to address the challenges of cybercrimes. In Asia Pacific alone, there is a talent shortage of 2.6 M people and in China 1 M people. Cybint provides a learning, training and simulation platform with multiple pathways for corporate employees and professionals, as well as high school, college and university students. The platform offers role-based learning, gamified challenges, hands-on simulation and threats updates. They also run cyber boot camps with proven success to train people with zero background to getting employed. The boot camps are also offered to less advantaged groups such as African refugees. Cybint solutions have demonstrated their impact with very favourable user reviews. They are building a global network of partners including in Hong Kong and Mainland China, from academic institutes, training providers to corporates
MEL Science (UK) seeks to make science education fun and effective, combining hands-on and virtual learning. It provides cool and safe home experiment kits together with an accompanying mobile app to guide the experiments. It also offers award winning AR/VR science lessons and free DIY science videos. The company has seen substantial growth and has just completed Series B fund raising. It is keen to look for academic research partners in Hong Kong to prove the value of AR/VR to science learning, building on an earlier research they did in 2017 with a US academic.
CoderZ (Israel) seeks to address the STEM talent shortage in the world, estimated at 4.3 Million by 2030. It provides a unique virtual robotics SaaS learning and competition platform connected to the real world/industry for students to learn STEM in a fun and engaging way. The platform is also data-driven, helping teachers to track the performance of the students, and potentially could be used for employee training as well. The impact of learning STEM with the CoderZ platform is proven with endorsements from teachers and students. They are looking for strategic partners in Hong Kong and the Mainland to expand into the China B2B or B2C market. They also hope to run virtual robotic competitions with educators and industry players in China.
Alessandro said SuperCharger Ventures is excited to develop Hong Kong as an edtech hub in the Greater Bay Area. The three startups also see the value of Hong Kong as an open and international city with people passionate to drive changes in education.