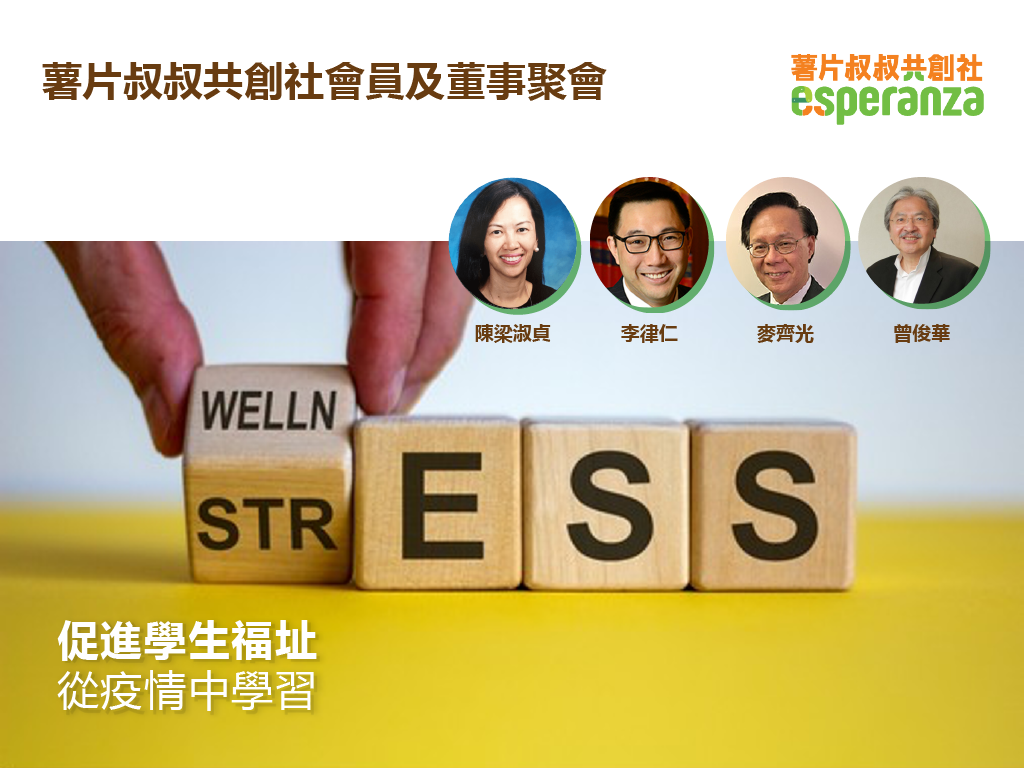 Hong Kong students are arguably one of the most stressful groups in the world. The pandemic has exacerbated the problem and taken a toll on the well-being of students. As we prepared for the resumption of schools in September, Mr John C Tsang led a panel discussion with 3 other Esperanza directors and members of the Esperanza community on 30 August.
Importance of Student Well-being 
Gloria Chan emphasised that student wellbeing should be part and parcel of positive education. Students need to develop their inner strength and resilience to cope with the vicissitudes of life. Educators should spend more time understanding the issues of students and develop a trusting relationship with them. Schools should provide an environment for students to learn happily in an engaging way. Equally important, educators should work with parents to enable students to grow up in a positive environment.
C K Mak shared his teaching experience at the University of Hong Kong during the pandemic. Using the example of a field trip he organised last year, he illustrated the value of experiential learning. It enables students to learn in an engaging and interesting way with real-life experience, thereby reducing the stress level of students. Laurence Li shared his experience of bringing up apprentices to illustrate the role of parents. Parents should understand and be supportive of their children. 
Mindful Parenting
Gloria believes that 50% of one's personality is the result of nature, 40% is nurture and the remaining 10% is affected by the environment. Parents should spend more time understanding their children as every child is different, listening to them instead of talking down to them. If parents respect their children, the children would respect the parents too. "Mindful parenting" is to accept, let go, be considerate, positive and grateful, as well as being creative.  Parents should also take care of their well-being before they can take care of the well-being of their children. 
ISTE Resources 
Gloria shared her experience of participating in the ISTE Blended Learning Programme, including the course on promoting student wellbeing.  There are many useful resources on the ISTE platform (e.g. yoga courses). While technology provides students with self-learning opportunities, she emphasised that the learning objectives should always be considered before technology. 
Project Well-being
Esther Ho is Principal at Carmel Alison Lam Foundation Secondary School, and Chairperson at Hong Kong Association of Careers Masters and Guidance Masters. The Association has been promoting mindfulness to educators and is currently running a 3-year pilot "Project Wellbeing" with 15 local schools and partnering organisations (e.g. universities) under the support of the Hong Kong Jockey Club Charity Trust. Esther said the experience sharing amongst educators was most valuable to help develop suitable interventions specific to the needs of individual schools. Placemaking is another focus of the programme as students spend more than one-third of their time at school. She hopes the experience of the 15 schools can be shared with other schools too. 
As one of the participants of the Jockey Club Project Well-being, Li Kin Man (Principal of Salesians of Don Bosco Ng Siu Mui Secondary School) highlighted the importance of creating hope for students through positive teaching practices. His school is also a good example of how placemaking could create an inspiring learning environment.
Online Community Platform for Esperanza Members
Participants shared their own experiences and challenges. Rachel Chan (Co-Founder of Esperanza) introduced the functions of the Glue-Up online communication platform for members. She encouraged participants to continue the discussion via the platform.